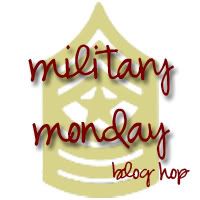 Good Morning Blogsphere! Welcome to the tenth week of Military Monday with
Marine Parents,
Life with the Littles,
and
Forever Neighbor.
These three wonderful milspouse bloggers are rounding up everyone. It's a way for us to meet more friendly milspouses going through similar experiences! Don't forget to join the three blogs and place the button somewhere on your blog! Enjoy and Happy Monday!
North Country is particularly cold today. The oven will be on and cookies will be made. I am sure by heating the house and making warm cookies my body will stay warm and cozy. I also plan on reading more of the first chapter of
"Tour of Duty, Preparing Our Hearts For Deployment"
by Sarah Horn. She is also the author of
"God Strong."
She is a military spouse who is also the founder of Wives of Faith. My girlfriend and I area reading it together. I am enjoying it thus far. She has great ways of looking at things. page 16
"Life is full of ups and downs, but God stands over all of it. He knows our future; we do not. He knows how that tough time will make us better even though we can't always see how. (I struggle with this). While we might think that a warning of "Rough patch ahead!" might make life easier, we should acknowledge that if we knew about all of the bad times we had ahead of us, we might not enjoy the good times because we would already dread the bad. If we knew about all the good times we had to look forward to, we might not enjoy them as much without first experiencing a life stretching experience that put things in a new perspective. after all, have you ever enjoyed a happy ending to a movie as much when you already knew how it ended? Of course not. The drama and conflict leading up to that moment make it all the sweeter."
I think this lesson is important. Sometimes I am interested in finding the end of a movie or a book because it makes me less anxious. I know what's happening. It's the same for this deployment. I want to know the end. However, reading this paragraph, I realize, that is certainly no way to go through life. I am learning...
I hope you all join me and House Hold 6 Diva for 2011 Blizzard Blog Hop on Thursday at 12 EST.