Please join Wife of a Sailor and other milspouses on Linky. It's a great opportunity to meet more women and connect on a different level. Thanks Wife of a Sailor! Great questions this week.
1. Where do you see your life in 10 years?
In 10 years, I will be 36 and hopefully a full time kindergarten teacher with all my kids born. I want to be a better painter and photographer. I hopefully will have traveled to Italy and France with my husband. I hope I have a home, I OWN! I hope it is filled with healthy, happy people.
2. What do you like most about your job?
Since my current position is Army Wife, I like it very much... well most of the time. I am however looking for another job that requires less moving and more money! HA!
3. What are three things you do everyday, no matter what day it is?
Bathroom, eat, brush my teeth. I would say shower, but I sometimes skip that! HA!
4. What would you do with an extra 5 hours in the day today?
I would probably use it for sleep, however, I think I would try to be able to stay awake and read longer. Sometimes at night I fall instantly to sleep. I shouldn't complain for those who have insomniatic tendencies.
5. What is your favorite Christmas (or whatever holiday you celebrate) cookie recipe?
This is pretty top secret, but I will let you all have it:
Ingredients
1 1/4 cup butter, softened
2 1/4 cups confectioners sugar
1/3 cup baking cocoa
1/4 cup sour cream
1 tbsp vanilla
2 1/4 cups all-purpose flour
2 cups (12 oz) semisweet chocolate chips
1/4 cup chocolate sprinkles
In a bowl, cream butter, sugar and cocoa until light and fluffy. Beat in sour cream and vanilla. Add flour; mix well. Stir in chocolate chips. Refrigerate for about 30 minutes. Roll into 1-inch balls; dip in chocolate sprinkles. Place, sprinkled side up, 2 inches apart on ungreased baking sheets. (I put down tinfoil)
Bake at 325 degrees for 10 minutes for till set. Cool on a wire rack. Yield: about 5 1/2 doz
Seriously... They are addicting. ENJOY! Happy Holidays.
House Hold 6 Diva
created a fun new adventure that I have gotten into recently. I enjoy taking pictures, although new to it. I seriously love this Milspouse. She opens so many doors and gives so many of us opportunities to meet. I hope one day I can personally thank her!
It's amazing to see last weeks entries of "
Texture
".
"SWEET" is the theme for this Friday. I love that instead of food, Ann Marie snapped an adorable "foto" of her daughter in sweet pigtails. I like the softness of it. Sweet = Sensational!
My original thought was to use my
Iphone photo
of our tree with a card placed in it by my husband who deployed this week. Then, I tried something a little more creative with my baby nikon. It's sweet as candy....
This week I was feeling blue...
My husband left me a sweet card on the tree...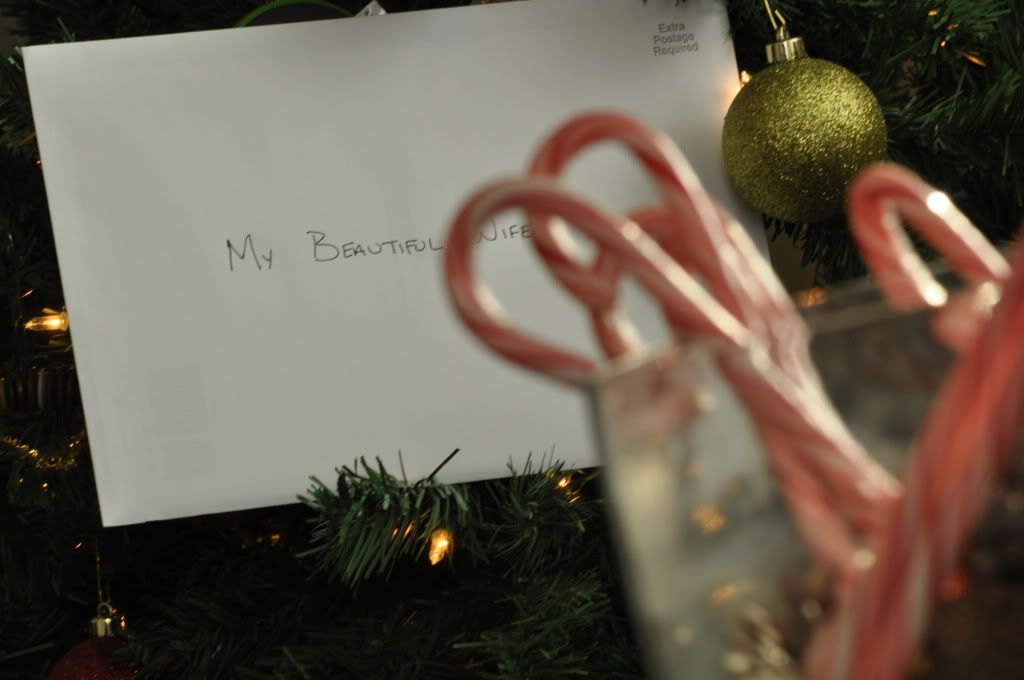 It's sweet like candy... I can't wait until Christmas morning!