Five questions Friday is fun! Copy and paste it to your blog. Thanks! I am trying to make the time go by faster before my hubby arrives in less than a week! :)
1. Do you have any nicknames and if so how did it come about?
Height - My maiden name. It really began in sports because Kathryn was so common.
2. What is your birth order amongst your siblings?
2nd
3. In a movie of your life, who would play your significant other?
This question is hard. I would only want my husband. But, someone who has played many army roles - john wayne! :)
4. What is currently your favorite song?
I am currently listening to Danny Boy. ha! My itunes is playing random songs. My favorite song would have to be anything by David Gray.
5. Are you saving your money for anything right now? Big or small purchase?
I am saving like a mad woman for the d5000 camera. I want
need this camera! My wonderful husband knows about it too!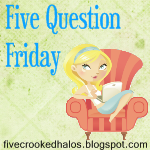 Now head on over
Mama M's
blog and get in on all the questions yourself! TGIF!