This weekend we are having the LT's parents (my new family) over for the weekend. We are going to have a wonderful feast. They are even staying the night. Luckily, we have prepared the guest bedroom and cleaned up the mess of his equipment. It looks like the closet vomited ACU pattern. There are the ACU's, jackets, gloves, protective gear, and whatever else. Luckily, we
s q u e e z e d
enough room for them to have
some
hanging space.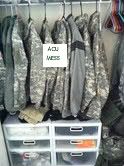 Our original idea was to show them the base, watch football and have dinner Saturday. NOW, we have decided to make every room a different holiday. Since the LT is leaving soon, we wanted to make sure his family could celebrate "the holidays" with him. This week I have become quite the domestic Martha Stewart. He has even helped. We made a
paper leaf wreath
,
turkey place settings
, ornaments,
streamers
and the
new years eve party blowers
! Check out
Martha Stewart Dot Com
for more info!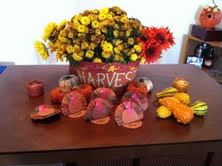 We are planning to make
Mayflower Martini's
, with
Dearborn Sausage
smoked kielbasa, Brie with jam, assorted nuts and fruit. For the main show we will have a TURKEY! This will be our first time making "the bird" as it has now been referred to. I found a recipe for mushroom stuffing, roasted vegetables and twice baked sweet potato. MMM MMM MMM! Dessert will be some
cinnamon dark chocolate fudge
and
carmel apple cheese cake
because my husband dislikes
PIE.
What is
wrong
with him? Nothing. I just like to give him a hard time. I am excited for something similar to thanksgiving dessert, but with a new flair.
What are you making for Thanksgiving?? Any tips on how to make everyone happy? HAHA Like that is ever possible. In a perfect world maybe.